What Is Makar Sankranti
Makar Sankranti celebrated on the 14th of January every year according to the Solar Calendar. This festival one of the major harvest festival which is celebrated with lot of enthusiasm. This festival is traditionally coincides with the beginning of the Sun's northward journey (the Uttarayan) when it enters the sign of Makar (the Capricorn). After Makar Sankranti, the days grow longer and the nights shorter till the next equinox. Makar Sankranti is one of the most auspicious day for the Hindus, and is celebrated in almost all parts of the country in myriad cultural forms, with great devotion, fervor & gaiety. The auspicious day is named as Makar Sankranti, which perfectly defines the movement of the Sun to the sphere of Makara. The famous Kumbh Mela – a mass pilgrimage to bathe in sacred rivers – is also held on Makar Sankranti every 12 years at any one of the holy sites.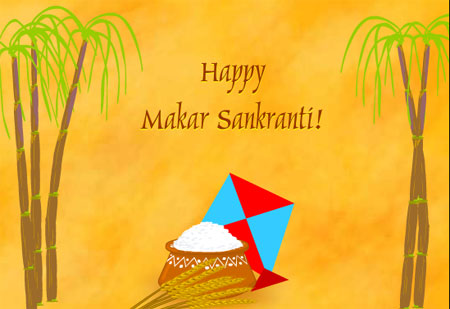 How Makar Sankranti Celebrated
It is celebrated with pomp in southern parts of the country as Pongal, and in Punjab is celebrated as Lohri & Maghi. Rajasthan & Gujarati not only look reverentially up to the sun, but also offer thousands of their colorful oblations in the form of beautiful kites all over the skyline. The Festival introduces kite enthusiasts world-wide to the intriguing beauty and cultural diversity of India.
Regional Significance
In Uttar Pradesh, Sankrant is called 'Khichiri'. Taking a dip in the holy rivers on this day is regarded as most auspicious. A big one-month long 'Magha-Mela' fair begins at Prayag (Allahabad) on this occasion. Apart from Triveni, ritual bathing also takes place at many places like Haridvar and Garh Mukteshwar in Uttar Pradesh, and Patna in Bihar.
In West Bengal, Sankranti, also known as Poush Sankranti named after the Bengali month in which it falls (last date of that month), is celebrated as a harvest festival Poush Parbon. Every year a very big Mela is held at Ganga Sagar where the river Ganga is believed to have dived into the nether region and vivified the ashes of the sixty thousand ancestors of King Bhagirath.
In Maharashtra on the Sankranti day people exchange multi-colored tilguds. Til gul is one of the main food items that mark the festivities during Makar Sankranti in Maharashtra. These little sweet balls made from sesame seeds and jaggery are exchanged between friends and family members on the occasion on the auspicious event.
In Gujarat there is a custom of giving gifts to relatives. Kite flying has been associated with this festival in a big way. It has become an internationally well-known event.